Why buy from UPCs.com instead of the GS1 or others?
If you're a new online seller and you need a UPC code, renting the code directly from GS1 will cost hundreds of dollars and require yearly renewal fees. However, with the help of legitimate barcode sellers like us, you can own the codes you buy with no additional fees, and the best part is – it never expires!  We can do this due to a settlement agreement that the UCC had with the GS1.
The current GS1 pricing is shown in the table below: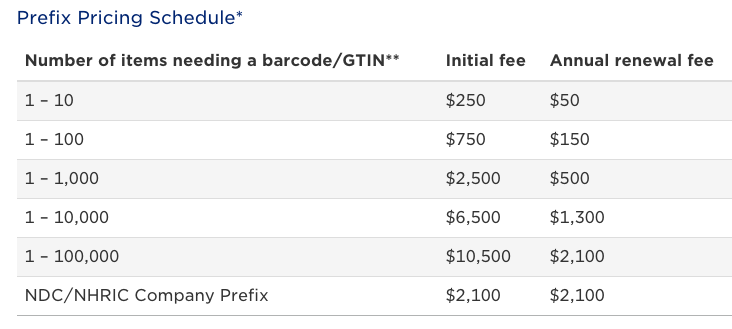 Notice not only the initial fee, but also the annual renewal fee that GS1 charges.  The costs end up being significantly higher.  UPCs.com pricing can be found on this page here – 1 code costs $5 and bulk discounts make pricing much more affordable. There are no hidden fees or renewal fees.  We own all the prefixes we sell out of, so you can rest assured you're receiving fully compliant GS1/UCC codes from us.
So, if you are looking to buy UPCs that are legitimate but do not want to pay more than what GS1 and other sites are offering, look no further!
UPCs.com provides the most affordable, 100% legitimate UPC barcodes guaranteed to have been issued and verified by GS1! Our company prefix was obtained prior to the changes in the GS1-US Licensing Agreement. You can be sure that you will be the only person in the world who can legally use the UPC Codes that you purchase!