GTIN-14 & ITF-14 Barcodes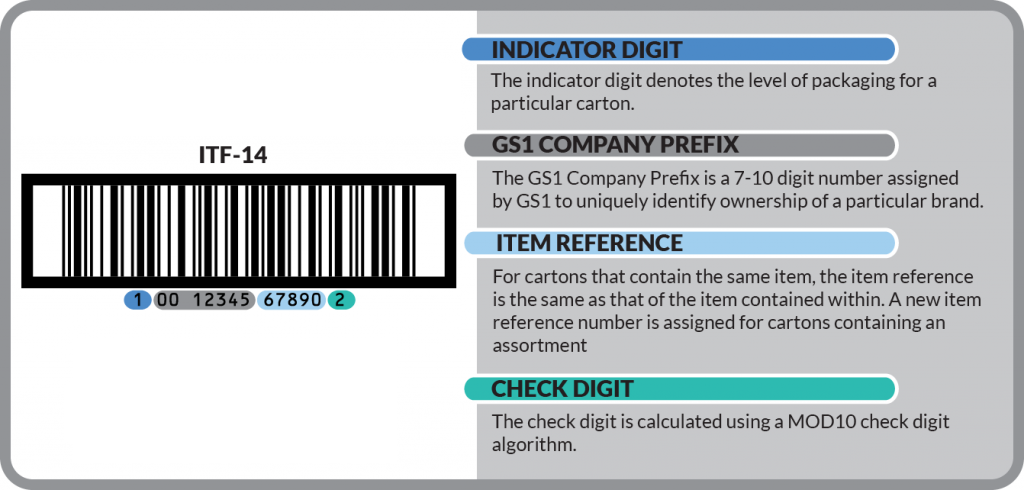 ITF-14 barcodes are also known as GTIN-14, or SCC-14 (shipping contain code) barcodes, and are a 14-digit barcode positioned on the external surface of your shipping carton or pallet, and serves the pivotal function of enabling efficient reception within the retailer's warehousing infrastructure. This barcode facilitates the seamless scanning of multi-unit product shipments as they ingress the warehouse.
While 12 digit UPC codes are used for individual products, ITF-14/GTIN-14 are used for identification of containers of products.
Widely employed across diverse retail scenarios, the Shipping Container Code assumes various nomenclatures, including Master Carton Code, SCC, SCC-14, GTIN-14, ITF-14, or DUN-14.
The GTIN-14/ITF-14 consists of 4 sections as shown in the image above:
Indicator Digit – This digits denotes the level of packaging for a particular carton. This one-digit prefix can range from 0 to 8.
GS1 Company Prefix – Vendors must have UPC (GTINs) with a GS1 Company Prefix that uniquely identifies their company.  Depending on the number of items a company needs to identify, a GS1 Company Prefix may be 7 to 10 digits in length. To obtain GS1 UPC barcodes, please visit UPCs.com.
Item Reference– References the same product number used for the item level GTIN (GTIN-8, GTIN-12, GTIN-13) when a carton is made up of the same item.  For cartons that contain an assortment of items a new product number is assigned.
Check Digit – The last digit of GTIN-14 is a calculated check digit. You can use UPCs.com Check Digit Calculator here.
This symbology is also known as Shipping Container Code because it is used for fixed-content shipping containers.  This 14-digit symbology has two different representations, UCC/EAN 128 format or the ITF-14 format which is based on Interleaved 2 of 5.  The most widely used barcode representation is the UCC/EAN 128 with Application Identifier (AI) 01 pictured above.  SCC-14 consists of 14 digits, including a check digit that is calculated the same way as a UPC/EAN check digit.  A SCC-14 barcode consists of the following pieces of data:
Digit 1- Package Indicator (PI)
Digits 2-3– UPC numbering system/EAN country prefix
Digits 4-8– Manufacturer code
Digits 9-13– Item identification number
Digit 14– Check digit
Because SCC-14 is used for marking and labeling containers that hold products marked with UPC-A or EAN-13 barcodes, these codes are included in the SCC-14 code.  The digits from position 2-13 are the UPC-A or EAN-13 code that is encoded on the products within the case.
The packaging indicator is determined by what is in the container.  A PI of 0 is used to indicate a container that doesn't have similar items or items without the same UPC or EAN.  PI's of 1-8 differentiate between cases with different quantities of the same item.  And a PI of 9 indicates that the number of items in each case varies and isn't fixed.
Unlike a UPC or EAN, you don't have to register for an SCC-14 number.  It can be produced following the rules above and created with barcode label software.
Why do I need ITF-14 Barcodes?
The ITF-14/SCC-14 is the standard method by which your retailer scans your product shipments into inventory. You will tell your retailer how many units of your product will be included in a standard shipping carton. This information will be entered in their inventory management system, and when your SCC-14 code is scanned, the system recognizes that a shipment of X number of individual units of your product arrived from your company.
Is the Shipping Container Code-14 the same as the UPC Code?
No, the ITF-14 is used to receive your shipments of multiple units of your product at the warehouse in the back of their stores. The UPC barcode is a 12-digit unique code for your product that allows retailers to checkout your individual units of product at the register in the front of their stores.  In short, the ITF-14 is for cartons, while the UPC barcode is for individual products.
ITF-14 Barcode vs. UPC Barcode:

Here is an example of an ITF-14 on the carton of MilkyWay candy bars: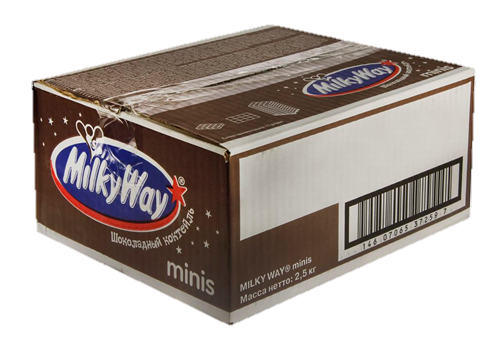 And again, the layout of ITF-14 is shown below: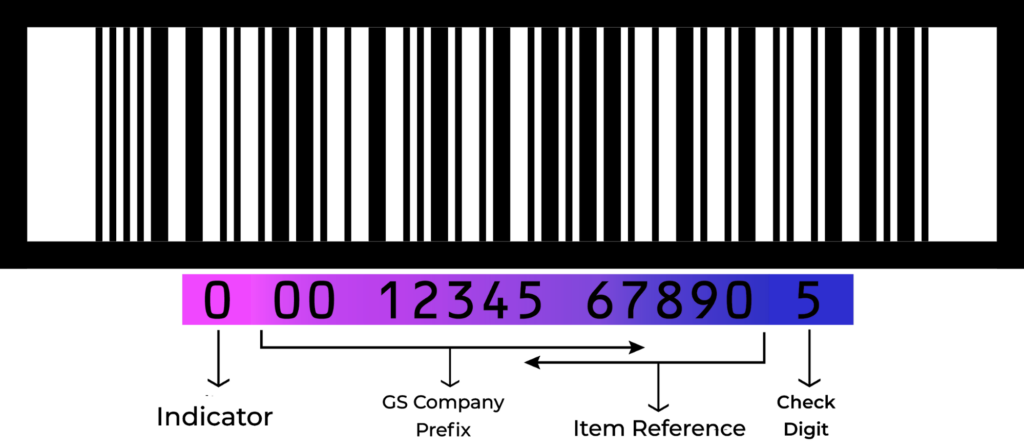 What if I have multiple items with different UPC codes within one box?
Let's assume that you pack 10 units of item A and 10 units of item B into a master carton. This is referred to as a mixed shipping container. Often this comes in the form of a mixed carton or mixed palette. Mixed shipping containers are a special case. They require a specific starting digit (called a package level indicator) and require their own unique base UPC code. You MAY NOT use the UPC from an actual item inside of the box as the base for the shipping container code for a mixed shipping container!
Can I purchase an ITF-14 code without having a UPC code?
No, you cannot. The ITF-14/SCC-14 is used to identify a shipment of multiple units of a given product. The individual product must have a UPC code first in order to create the SCC-14 code for its shipping carton. SCC-14 codes require an associated UPC code. They go together. You can purchase your UPC and SCC-14 codes at the same time or add the SCC-14 codes later.
How do I buy a ITF-14 / GTIN-14 / SCC-14 Barcode?
You can purchase ITF-14 Codes directly at UPCs.com.  Simply place your order for a UPC, and respond to your order email requesting an ITF-14 and we will assist you with the conversion so you having working ITF-14 barcodes.