There are a lot of questions and discussions around UPC codes and Amazon, and a lot of bad information going around in the sell-on-Amazon space.  This article is an in-depth discussion of how to get valid UPCs for Amazon and avoid any issues in the future.
Already have codes? Checkout our Guide on How to Use Amazon UPC Codes
What is the GS1?
From Wikipedia, "GS1 is a not-for-profit organization that develops and maintains global standards for business communication. The best known of these standards is the barcode, a symbol printed on products that can be scanned electronically. GS1 barcodes are scanned more than six billion times every day."  In short, they allow companies to buy prefixes for their UPC codes which then allows Brands to obtain prefixes.
Addressing UPC Codes and the Concerns
There are many articles circulating on Amazon's UPC policy and the continuous changes made to it, as well as many assumptions people are making regarding them. We'd like to address them from our perspective, as a long-term UPC code reseller.
Firstly, what is a UPC? Simply put, it is a unique product code, used to catalogue products in a database. UPCs have existed for 50+ years and since the internet boom in the last 20 years, they have become even more useful and widely available. EANs are very similar and are used for the same purpose. A barcode is simply a visual representation of a UPC (or EAN) which is applied to products such that they can be scanned, counted, and inventoried.  Amazon, iTunes, eBay, and many other services require them to list products such that products can be identified and regulated, as well to prevent duplicate products from being listed.
UPCs are widely used all over the world today.  They typically consistent of 12 digits (EAN is 13 digits).  The GS1 is the company which issues UPCs by issuing company prefixes.  Depending on your needs, you can purchase 1 or thousands of UPCs from the GS1, with an upfront fee as well as a renewal fee.  However, prior to 2002, you were able to purchase prefixes from the GS1 which never expire nor have renewal fees.
The first several digits of a UPC code is what is called the company prefix, which is a unique set of number attributed to the original prefix owner. While owners may change, the name of the company prefix remains the same in the GS1 database.
The Problem with UPC Codes
Several problems have recently arisen which has caused Amazon to adjust their policies.  In the past you would be able to generate a random number of a similar format as a UPC using a specific algorithm, and places like eBay, Amazon, and iTunes would accept them.  These are called "air codes". They are constructed using the same rules as a real code, but were never issued by GS1, so they are not real GS1 UPC codes. These codes, if searched for in the GS1 database, would not show up.  
Essentially this has led to many people generating fake "air codes" and selling them online.  As a result, companies like Amazon rightfully require the UPC codes to verify with the GS1 database to ensure they are using legitimate UPCs. This doesn't mean you need to own the prefix or avoid third-party sellers, but you must buy un-used codes that verify with the GS1. All the codes that we sell at SnapUPC.com were issued by GS1 (or the UCC which became the GS1).  
What's Really Happening with UPC Codes?
If you are a new seller online want to sell 1-10 products online, you have to pay $250 up front plus $50/year to the GS1.  Up to 1,000 codes is $2,500 flat and $500/year, and so on. The full pricing chart as of July, 2020 is below: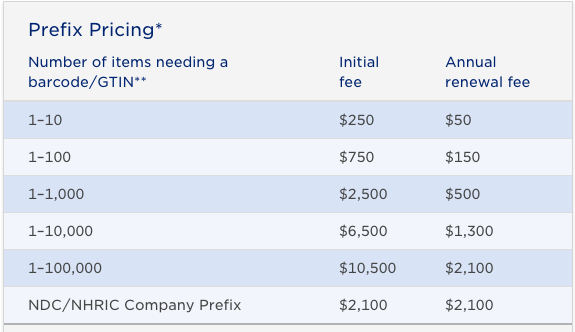 There are 3 factors in play that affect the modern day UPC market.
1) Because of the pricing model, people purchase UPCs in bulk and then resell them
2) People buy too many UPCs and want to sell the rest
3) People who owned prefixes prior to 2002 can sell un-used UPCs that don't require renewal fees.
Because some UPC sellers obtained prefixes prior to 2002, they don't have renewal fees, and therefore sell un-used UPC codes for significantly cheaper than the GS1, we are one of these sellers. This market has existed since the creation of the GS1 and still exists today.  In fact, most of the UPCs on the market (and on Amazon) are from resellers of the GS1 who originally bought from the GS1. These codes still verify with the GS1 and can be used anywhere. When you buy them from us, you own them, and you own them forever. While the ownership of codes can be bought and sold, the prefix in the GS1 database does not change (hence why you may find a different prefix "owner" in the GS1 database).
A common concern is having the company prefix name at the GS1 match the Brand on Amazon.  This is not a requirement.  For example, many businesses will buy 1 prefix for 100,000 codes, and use those 100,000 codes to sell 10+ different Brands.  Hence requiring the prefix to match the Brand wouldn't make sense.  What Amazon wants are unused, valid GS1 codes to prevent product duplication in their catalogue.  It is a difficult problem to solve, and Amazon has made steps to change the product identification world with things like Brand Registry.
What Does Amazon think?
The current Amazon policy explicitly says:
"We verify the authenticity of product UPCs by checking the GS1 database. UPCs that do not match the information provided by GS1 will be considered invalid. We recommend obtaining your UPCs directly from GS1 (and not from other third parties selling UPC licenses) to ensure the appropriate information is reflected in the GS1 database."
Again, this policy change was made due to people selling "air codes" – which Amazon doesn't want people using.  Additionally, here are a few quotes from Amazon:
"Greetings from Amazon Seller Support,

Please be informed that answer of the inquiry you raised previously is "YES". Sellers of  Amazon can purchase UPCs not only in GS1 but also from the other companies who legally sell UPCs. Kindly take note that all UPC's that were purchased and provided by the seller will be verified by our system. If the UPC provided will not be accepted, then the seller must give another UPC that is being accepted by our system."
While other people have reported responses like:
"The ONLY place you can buy legitimate UPCs is through GS1."
This sort of response is due to people buying from third party sellers who sell codes that are not from the GS1, air codes.  If your code is from the GS1 and unused, it can be used without issue. We've sold many codes over the years without issue, and to this day, GS1 verified codes still work, and you don't need to own the prefix.
"you are breaking Amazon policy if you use third party codes on Amazon"
This is not true. Many of the sellers who have been selling since before 2002 (when the GS1 started charging renewal fees) have resold millions of codes and they have been accepted for 15+ years.  And today they are still accepted. If you're a new online seller and you need 1 UPC code, the GS1 will cost hundreds of dollars and require renewal fees. As a result, there is a resell business where businesses have un-used codes that they sell to others who only want 1 or 100.
While there may be changes in the future and how UPCs are used, Amazon does accept UPC codes as long as they verify with the GS1.  You don't need to own the prefix! Note that the vast majority of sellers on Amazon use GS1 codes that they didn't register from the GS1, but instead bought from resellers. And this isn't just Amazon, this is the whole UPC business. Again, if your codes verify with the GS1, they will work fine.
To reiterate, the big concern here is that many people are often selling codes which don't verify with the GS1 (ie. if you buy the code, and search for it in the GS1 database, no information or prefix owner information shows up).  These codes are therefore not legitimate. However, if you buy an un-used UPC and it verifies with the GS1, it is a valid code that you can use to list on Amazon.
When you are buying legitimate GS1-verified UPCs from resellers, you are buying unused UPC codes from someone else who originally registered the prefix. The company prefix will not identify you, it will identify the original owner of the UPC that registered with the GS1 (not necessarily the current owner). This is not a problem.
Should you be worried?
If your UPC codes verify with the GS1, there is no need to worry.  100% of our codes at SnapUPC.com verify with the GS1, so if you bought from us, you're fine. You can verify your codes here (Search "Trade Item Ownership"). The big concern is over people who purchase from sellers who weren't selling GS1-verified codes.  Many claim they are, but when you search for them, they don't show up in the database. What you want to look for in your search is if a company prefix owner shows up. If it does, it means the code is valid.
How to Buy UPC Codes for Amazon – Summary
UPCs are used widely throughout the world, and are becoming ever more popular. The recent concern from Amazon (and other companies) is that people were using "UPC codes" that were not real ("air codes") and did not verify with the GS1, hence their explicit policy change. However, this is not to taint all third party sellers, as many sellers, including SnapUPC.com, have been selling UPCs for many years legitimately from the GS1 and will continue to do so.  When you buy UPCs from us, you're buying a code that originated from the GS1, and is guaranteed to be unique to you and your product, which you own and can legally use.
We offer 100% money back guarantee if your codes don't work, and we stand by our product and service. We are here to serve you, and appreciate your business.  Also check out our Frequently Asked Questions page for more information.
To buy UPC codes, simply order visit our pricing page and place your order, codes are delivered instantly upon checkout.
Have any further questions not answered here or on our FAQ page? Feel free to contact us, we're glad to help.