The SKU data provided is different from what's already in the Amazon catalog
When you're creating a listing, you may come across this error (Amazon Error 8541):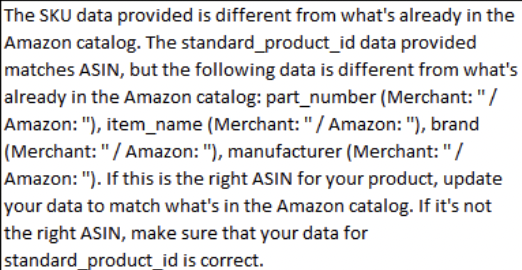 This error is rare but happens when you're listing a new product but the UPC(s) you're using is already being used on Amazon.  This can happen for a number of reasons, but the most common is due to another seller that has illegally listed products using your UPC.  The other possibility is if you already listed a product with the UPC in question.
Note: All of the codes we sell at UPCs.com are never recycled or reused/reassigned to anyone besides you.  Amazon does not remove products that have been used with illegal/stolen codes, which can cause listing errors with Amazon.  Amazon is one of the only online marketplaces that requires a UPC but does not fix/purge any illegal usage of UPC barcodes.
If this issue persists, you should try the next UPC in your order and see if it continues.  If it continues, you should contact us with the following:
The exact error you're getting,
The UPCs you've tested and if any have worked.
What is the Brand name and full Product Title you're testing with?
Do you have Brand Registry? If so, when did you apply for it?
 Are you creating a variation listing or a parent item?
What category are you listing in?
Once we have this information, we can reissue your order or direct you the best way to move forward to successfully list your products on Amazon.
---
Need UPCs?