GTIN vs. UPC – What are they and How to Use Barcodes
GTIN vs. UPC – What are they and How to Use Barcodes
There are a lot of terms thrown around and it can be confusing what it all means. In this article, you'll learn a few major key points:
What is GTIN and UPC
How do you use them
The benefits of using Identifiers
What are some the types of Barcodes
What is an FNSKU
What is a GTIN and UPC? What do they stand for?
Great question, if you haven't heard the abbreviations before, it might be confusing. GTIN stands for "Global Trade Item Number", whilst UPC is short for "Universal Product Code". At first glance, these two might sound like the same thing – and guess what? They actually are!
Many people might think that GTIN and UPC's are different, or serve varying purposes. However, this is untrue, and both are part of the same global data structure. GTINs are the unique identifying number that is embedded into a UPC – they help companies manage inventory to prevent duplicate products and to control the inflow and our flow of good in the logistics chain.  Every product you see in Walmart or on Amazon has a unique GTIN/UPC.
There are different kinds of GTIN's, in which UPCs are apart of. Here is a list of the different types of GTINs:
GTIN-8 is formerly known as EAN/UCC-8, which are often used on smaller packages like a pack of gum where space on the package is limited.
GTIN-12 and UPC: The GTIN-12 are 12-digit unique identifying codes for products. It's used primarily in the US and Canada.
GTIN-13 and EAN: This is the equivalent of the GTIN-12 and UPC for everywhere that isn't the United States or Canada. Instead, it uses a 13-digit identifying code, and EAN stands for the European Article Number.
GTIN-14 is formerly known as EAN/UCC-14 or ITF-14, as well as SCC-14 – this is a 14-digit number used to identify trade items at various packaging levels such as container, crate, or case.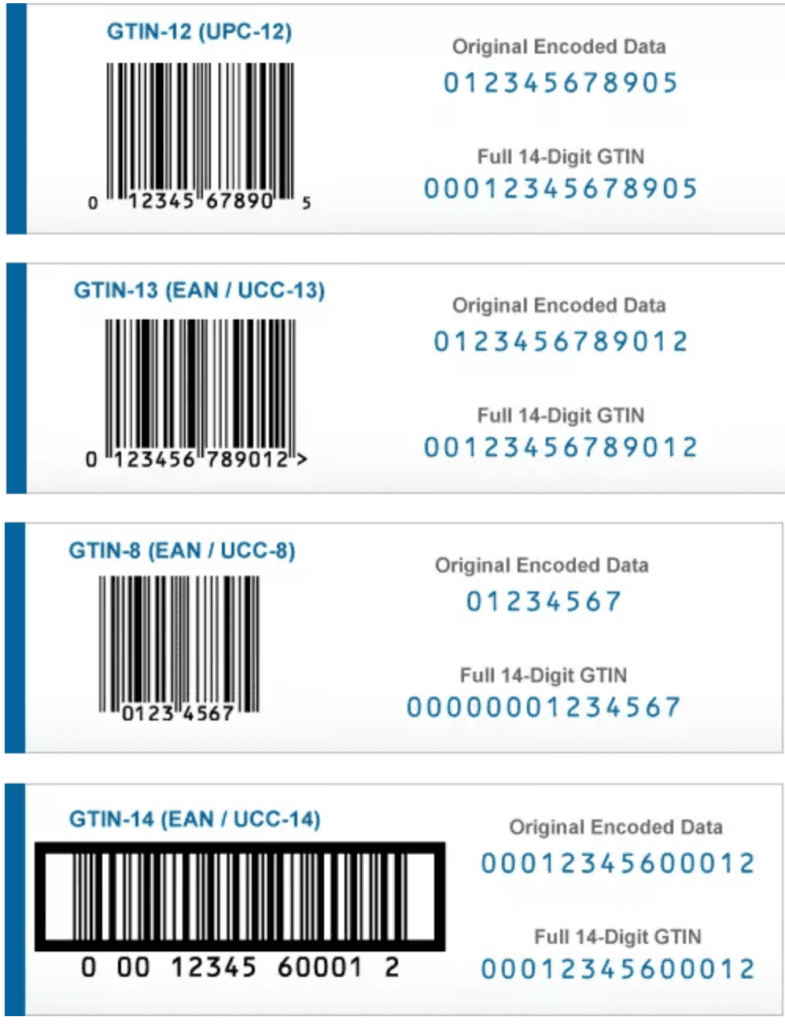 Notice the differing length of the string of digits below each, yet the similarities.  For a type UPC-A, which is the most common if you want to list your product on Amazon, for example, it is 12 digits and has the structure below:
The first 5 digits are the company prefix (if you have one, not required), followed by 5 digits of various product numbers, and the last digit it always the check digit.  The check digit can be calculated per the formula on our Check Digit Calculator page.
As a seller, you don't need to worry about these structures, you simply need to ensure you're buying a UPC from a reputable company such as UPCs.com.  All of our codes are GS1 codes yet our prices are significantly lower since we can issue you individual codes without renewal fees due to a settlement with the GS1 in 2002.
GTIN barcode numbers, UPC and EAN are for the most part – interchangeable. It depends if you're referring to the unique identifier code itself (GTIN), or the system that also includes the barcode. In which case, you mean UPC (if you're located in the United States or Canada), and EAN (for everywhere else).  UPCs.com is the leading seller for these codes, so if you need codes for your products, please visit our homepage.
How do you apply for a GTIN? Where do you use them?
GTIN numbers are crucial if you're planning to sell products for your company or business. Unfortunately, you can't just make up the number either – you have to register online to get GTIN numbers and generate barcodes. The GS1 is the company that issues these codes, and all the codes that we sell from UPCs.com come from the GS1.  Our prices are significantly cheaper and this article here explains why.
You can buy GTIN numbers from us in 60 seconds at UPCs.com.  We highly recommend buying them directly from us as a lot of sellers online sell codes that expire or are unusable going forward.  Buying from a reputable seller is vital to your business – we've been around for more than 2 decades and have helped 100,000+ companies with their UPC needs.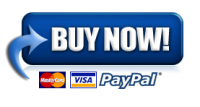 When registering for a GTIN and submitting information, keep the following information on hand:
Legal Company Name
Primary Contact Information
The number of individual items to create identifiers for
Payment information
Registering for a GTIN isn't free, and comes with a fee. This will range depending on the number of products you have requiring a GTIN. You can find our bulk pricing options here.  Note, our prices are significantly less than buying from the GS1 but function exactly the same.
You can purchase anywhere from 1 GTIN to upwards of dozens of thousands. There is no renewal fee when you purchase from us and your codes do not expire.  You can use them instantly upon checkout.  If you purchase from the GS1 directly, the prices will be higher you they will push you to purchase an entire prefix for your company.  Alternatively, if you buy just one code, the prices are 2-3x higher.
GTIN's are handy when you're selling products online. It helps you keep track of stock, ensure quality, and prove that you're selling a genuine item. Almost all retailers use this, with the most common being Amazon. There are only few examples where you might be able to sell products with a GTIN exemption. You can find more information on GTIN exemptions here.
The most common cases where you can sell a product online without a GTIN/UPC is for private-label or handmade products.
An authentic GTIN and (UPC or EAN) Barcode is required when selling products online so you can be held accountable – and customers can guarantee they're purchasing the right item. It also helps with item and stock management.
What is an FNSKU? How does it differ from a GTIN?
Are you a manufacturer that sells your product through multiple, other businesses or companies? This is where an FNSKU identifying code comes in.  FNSKU stands for Fulfillment Network Stock Keeping Unit and is used at Amazon to track specific products.  For example, a UPC identifies a Large Red T-Shirt, but if there is 1 used and 1 new, each will have a unique FNSKU even though the UPC is the same.  A SKU (stock keeping unit) is a common term used by merchants to refer to the number of unique items they have for sale.
It is a unique set of numbers that connects similarly to a barcode, and is generated when you create a listing on Amazon. This is an Amazon-specific code, and helps them keep track of items being sold by different sellers, which might have different SKUs.
For example, if you're a reseller for Branded Merchandise, you won't need a UPN or EAN. You can just use the FNSKU for the Branded Merchandise. The FNSKU is what determines that the product is legitimate, and Amazon can identify the product and seller using it.
The world of unique identifying numbers and barcodes can be a confusing one, but it's crucial if you're running a business or company. Understanding what a GTIN/UPC is, and the different types are important. When selling products on online store platforms, like Amazon, they're a must-have.
Need a GTIN/UPC for your business and products? Click on the Buy button below.  Have any further questions? Contact us, we're here to help.